Last year, we saw a rise in Asian hate and anti-Semitism, continued mistreatment of Black people by the justice system, and the deadliest year on record for the Transgender community. We share the deep sadness and frustration of these communities, and we continue to support all historically excluded groups. We stand in solidarity with our talent, and commit to hold ourselves and the industry accountable.
The business case for diversity goes beyond well-documented performance improvements; it's about fixing systemic imbalances that impact real people's lives and hinder forward progress. Though advertising has a strong role in contributing to and reflecting culture, the industry has been exclusionary for decades. At Hill Holliday, we are committed to doing all we can to right those wrongs, and to drive representation and inclusion for those who have been overlooked.
Hill Holliday recognizes both our responsibility and our influence in making the advertising industry more diverse and representative. And while we've acted on our commitment in 2020 with deliberate, collaborative initiatives across the agency, we must do more—recruit and promote BIPOC talent, operate differently, and elevate our work to make meaningful and lasting change.
In the data below, you'll see we've made progress—but we're far from done. Our commitment to our BIPOC talent, our culture, and the industry is relentlessly working toward change in 2022 and beyond.
With that said, here is how we fared last year:
BIPOC Representation
We've made progress toward our diversity goals and increased BIPOC representation by 6 percentage points year over year, but we still face underrepresentation of non-white talent. This is a critical area for us to focus on in 2022.
Representation by Ethnicity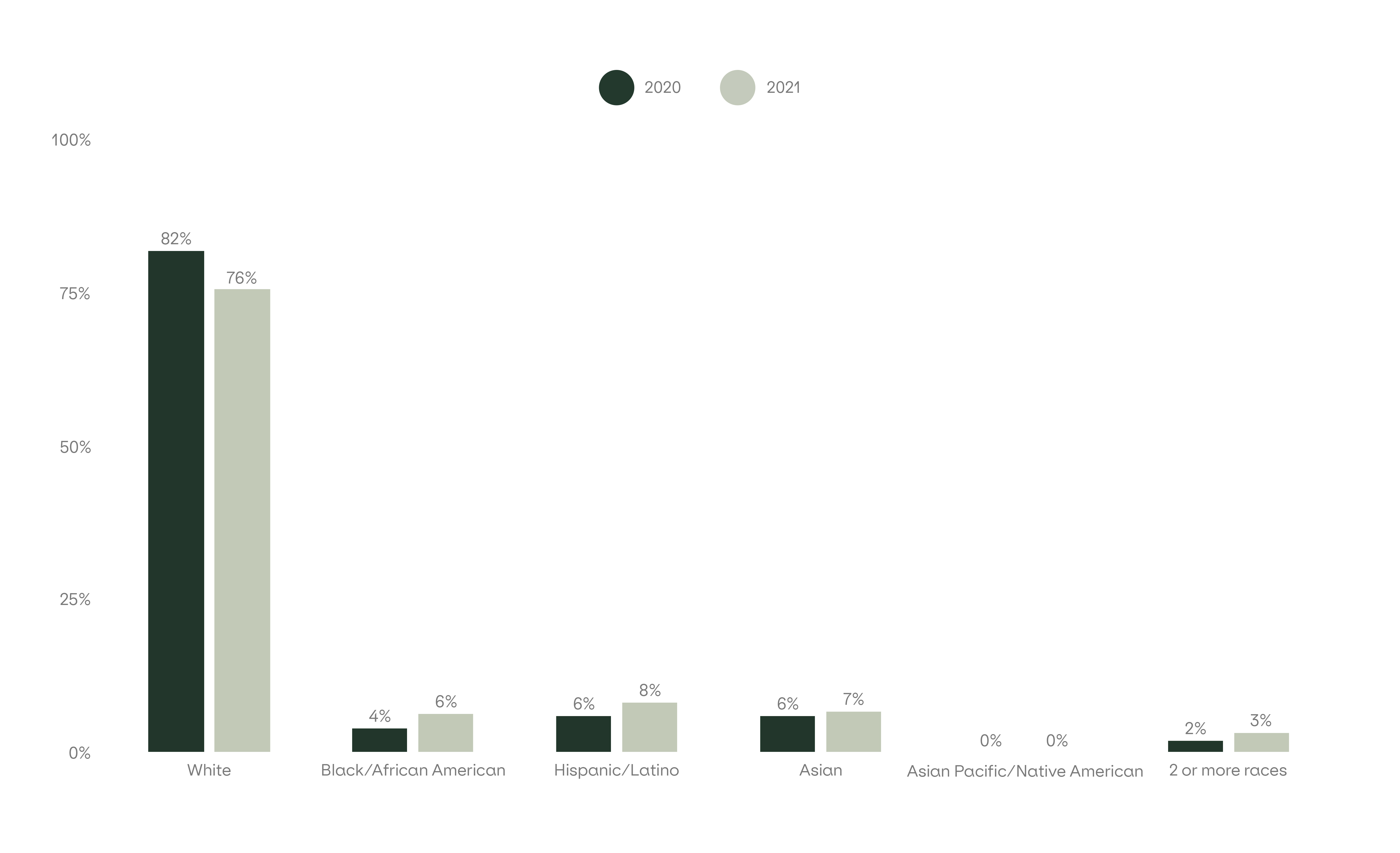 Each BIPOC group saw an increase in representation within the agency, with the largest percentage increases among our Black/African American and Hispanic/Latino talent.
Ethnicity By Seniority

Junior levels have stronger representation across BIPOC groups, driven primarily by the number of hiring opportunities at those levels.
Ethnicity By Seniority: A Closer Look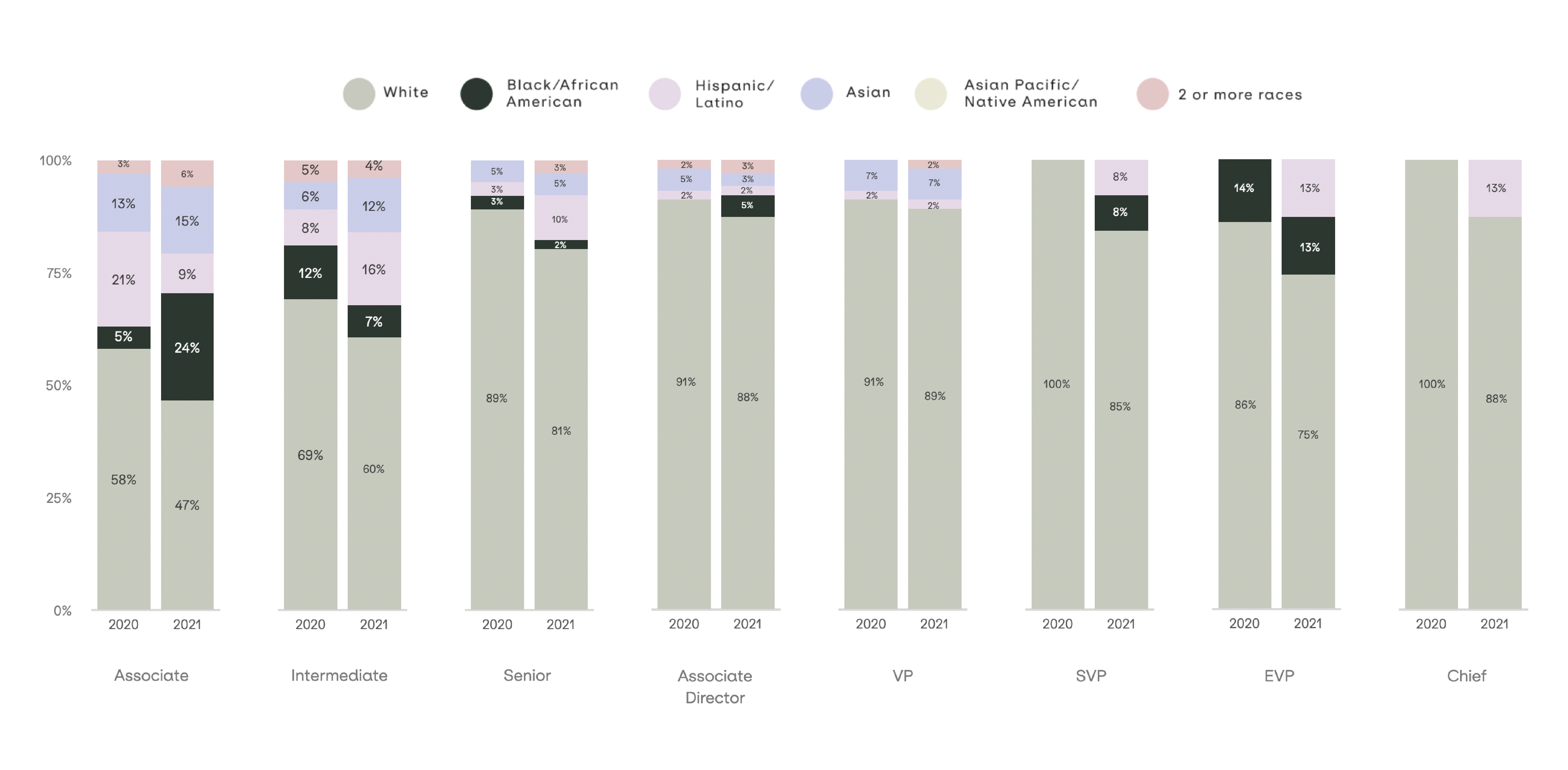 At every level, we have seen an improvement in representation, with our Associate and Intermediate levels continuing to be the most diverse. In 2022, we're committed to not only continuing to improve representation for VP and higher levels, but also to retaining and growing the diverse talent within our junior levels.
Representation by Gender*
*Our survey did not take into account talent who identified as non-binary or other genders. We're working toward ensuring our future efforts in this regard are more inclusive.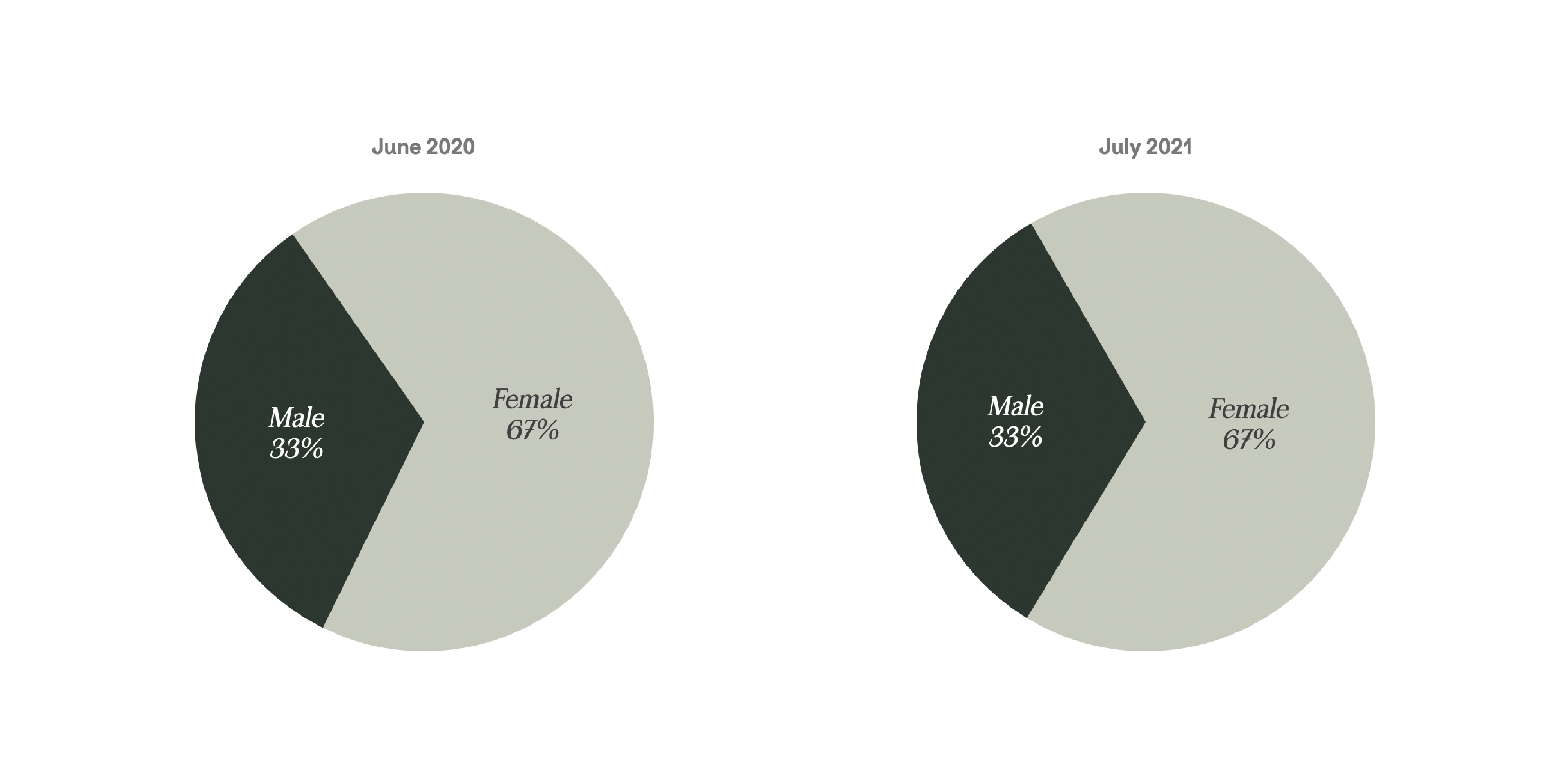 We did not see any change within our gender representation from 2020 to 2021. As our industry saw a disproportionate number of jobs lost by women, we are pleased to have maintained our female representation.
Gender By Seniority

Overall, two-thirds of our talent identify as female, though this mix varies by seniority, with the strongest concentration of female talent in our Mid-Level (72%) and the lowest percentage of female talent within the Executive level (44%). This will be an area of focus for us in 2022.
Gender By Seniority: A Closer Look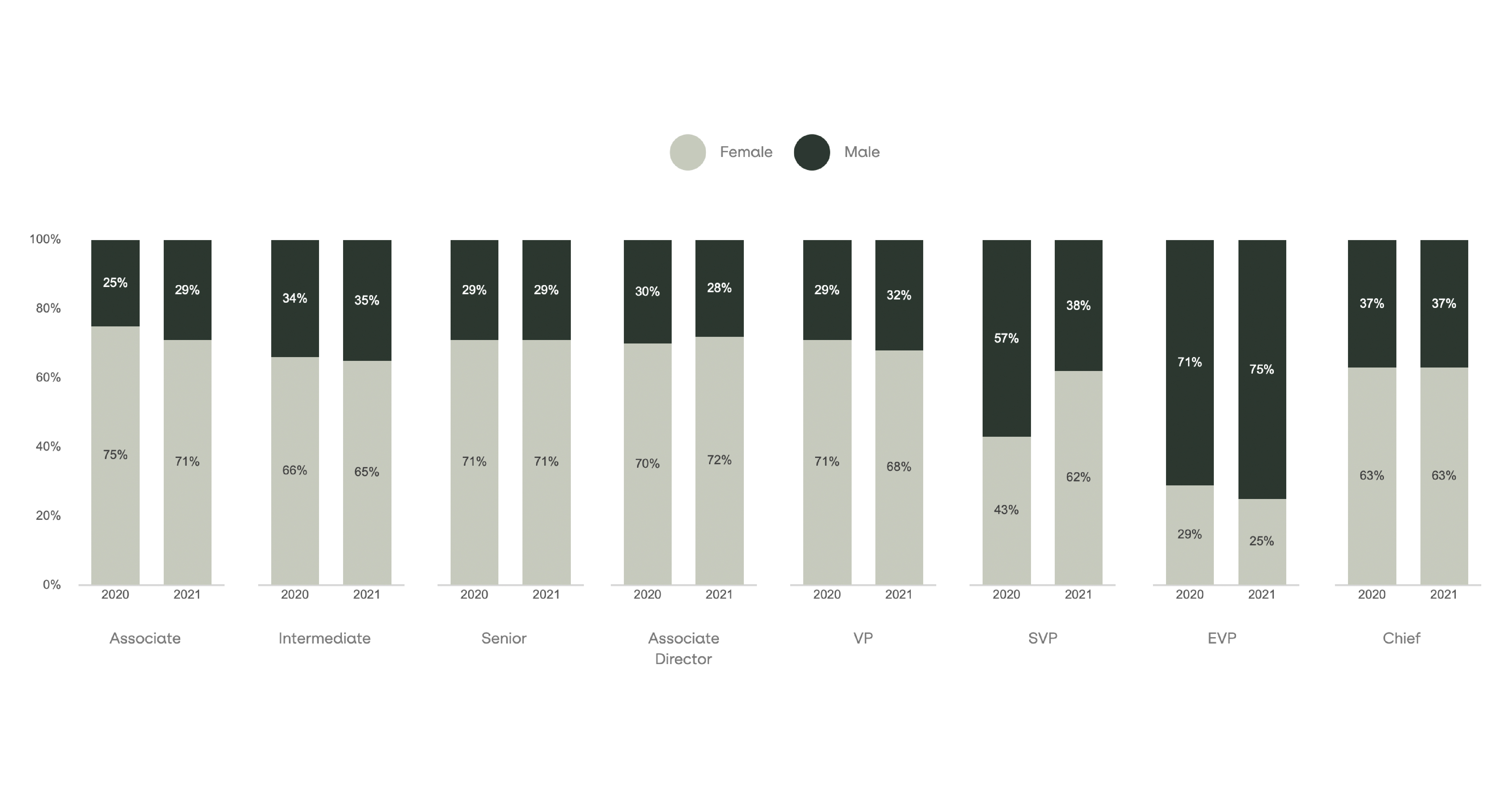 We see strong female representation throughout our levels with the exception of the EVP level, where we see an underrepresentation of females compared to our overall talent mix. We have an action plan to address this in 2022.
Hiring & Attrition
New Hires By Ethnicity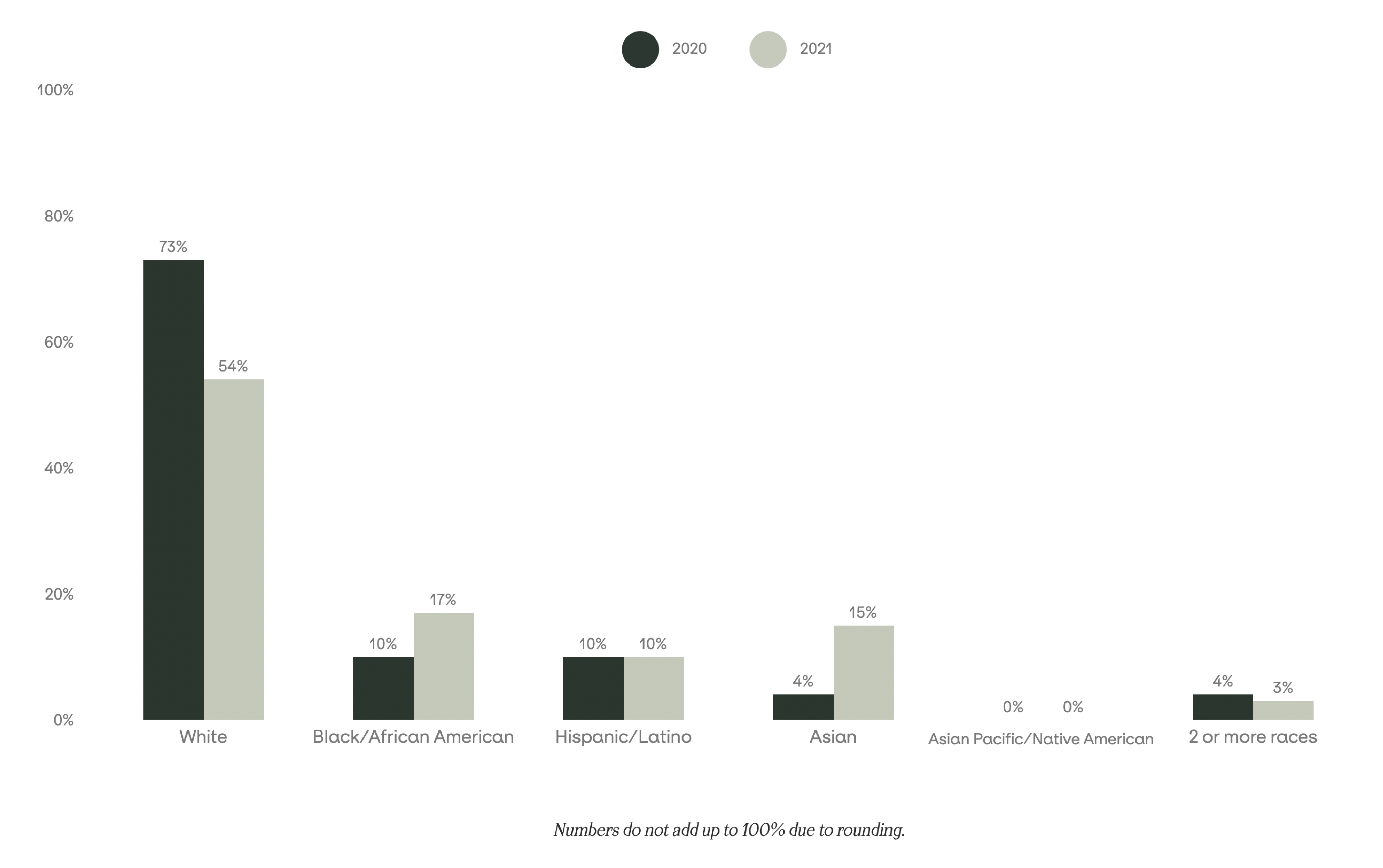 We've made improvements in hiring across diverse talent groups, especially with Black/African American and Asian talent. Our goal is to reflect the US Census Data as closely as possible.
Attrition By Ethnicity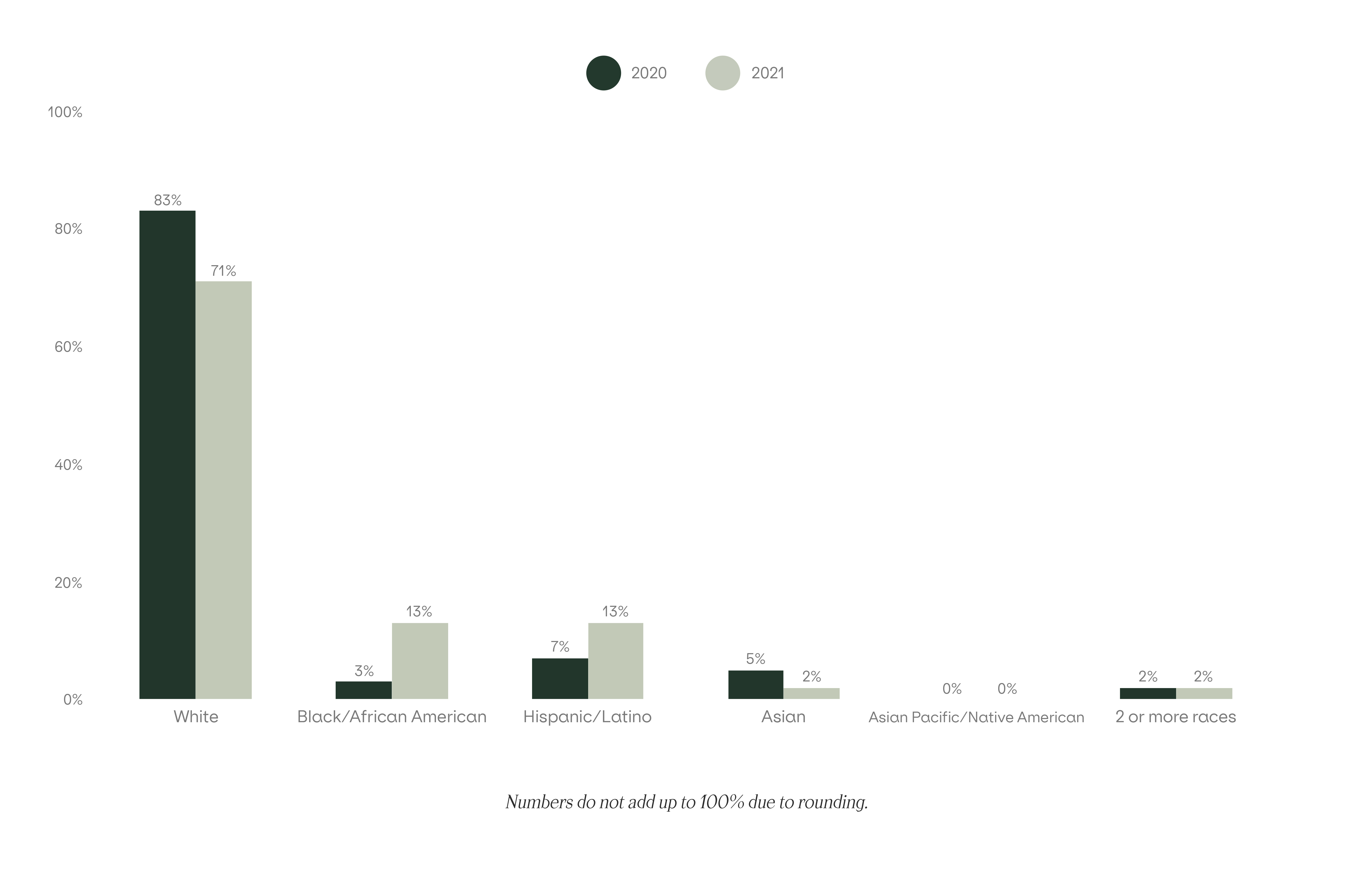 While we are making progress hiring BIPOC talent, we are seeing an increase in attrition for Black/African American and Hispanic/Latino and a decrease in attrition for our White talent. In order to meet our representation and diversity mix goals in 2022 and beyond, we will focus on retention efforts to address this trend.
Our Approach to Continued Progress
We know progress can't continue without commitment from people in every part of our agency. In the past few years, we've engaged groups at all levels to help forward our ED&I goals.
Amplifying voices: Since 2020, our executive leadership team has regularly met with our Black business resource group, Black and Blended. These conversations give leadership the opportunity to hear firsthand from our talent about what we can do better, and make our talent an active part of the solution.
Pushing for meaningful change: We've implemented an ED&I steering committee composed of our ED&I and executive leadership groups, including our SVP of ED&I. This team focuses on training, actionable plans for leadership and, most importantly, keeping us accountable to the changes we promised to make.
From these cross-agency conversations, we pledged to move forward with a three-fold strategy that's further broken down into eight actionable items. Our strategy covers:
Evolving who we are: Elevating and empowering our talent with opportunities to lead and learn.
Elevating the work we do: Pushing ourselves to think through the various lenses of diversity to bring our work to the next level. Our executive leadership team has challenged talent in all departments to focus on cultural, social, and racial impact.
Ensuring we operate equitably: Establishing policies that help us work toward equity and enabling talent at all levels to follow them.
Eight Actionable Items
Hiring more Black talent and Black leadership
One of our most important goals is to increase Black representation at our agency, resulting in at least 13% representation among managerial positions (VP and above) by 2023. This coming year, we will begin new relationships to further our recruitment efforts and attract more Black talent.

Improving Black talent retention
This involves rethinking processes around retaining and promoting current and future Black talent within our organization. We have promoted 11% of our Black talent in the past year and we will continue to work to create a culture for our talent to thrive.

Providing racial equity training
We partnered with Courageous Conversations racial equity transformation training beginning in January 2020, and held three additional cohorts for employees throughout 2021. As we continue our journey this year, we will use the tenets we learned in Courageous Conversation to move our culture forward.

We've also expanded our learning partners to include Cook Ross, Bold Culture, YWBoston, and OhHeyCoach to guarantee we are creating and maintaining an inclusive culture.

Reviewing the work
Our Cultural Review Board represents a panel of diverse perspectives from various disciplines within the agency that reviews creative work through every lens of diversity. As an agency, we push ourselves to create work that is culturally sensitive and representative of the real world.

Empowering community accountability
In 2020, we implemented AllVoices,a tool where discrimination can be reported when experienced or witnessed internally or with clients. AllVoices is monitored by our executive leadership team, and IPG provides additional support in this space.

Establishing equitable agency policies
We audited agency policies and practices to make certain our structural and behavioral processes are free from bias and are equitable and inclusive. This includes a flexible work policy to make sure all talent has a voice in the room, no matter how or where they choose to work.

We created ED&I competencies for each and every role at Hill Holliday, and all talent is held accountable to meet their ED&I goals during their annual performance and compensation reviews.

Ensuring pay equity and transparency
Over the past year, we worked to guarantee transparency, equity, and career mobility for all our talent. We ran a comprehensive, data-driven competitive market analysis in partnership with a third-party compensation consultant, adjusted any pay equity gaps, and created structured salary tiers. We developed and communicated clear expectations of exactly what needs to be achieved for talent to move from one salary tier to the next.

Creating solidarity & accountability
We've signed onto the 600 & Rising movement, and the In for 13 and 3 in 5 pledges. We believe that these movements will provide an additional level of accountability for our efforts.

Lastly, we track and share our ED&I data annually to hold ourselves accountable, stay true to our commitment, and continue making progress.
We have a long way to go, but this is where we are today. We're committed to continued action, listening to our talent, and making changes that will make Hill Holliday more inclusive, both in the work we do and the way we do it.