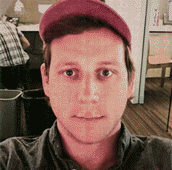 Rob Erskine
VP, Director Creative Technology Boston
Rob forced a bot to analyze over 100,000 lines of his code on Github, as well as all of his tweets on Twitter, and this is what it came up with:



ROB

 is a 

HUMAN CREATIVE TECHNOLOGIST

 who comes up with creative in HTML, CSS, JAVASCRIPT, PHP and NODE. 

ROB

 has worked on campaigns for the AMERICAN LUNG ASSOCIATION, BANK OF AMERICA, BRIGHAM AND WOMEN'S HOSPITAL, DUNKIN DONUTS, FRONTIER COMMUNICATIONS, JOHNSON & JOHNSON, LIBERTY MUTUAL, NOVARTIS, PARTY CITY,  PLANET FITNESS, and TEMPUR+SEALY. 
He also deeply 

CARES

 about ACCESSIBILITY, PERFORMANCE, ANALYTICS, SHIBA INU PUPPIES, and BRANDS PRETENDING TO EXHIBIT HUMAN EMOTIONS ON SOCIAL MEDIA.


ROB

's skills INCLUDE CREATIVE DESIGN and DEVELOPMENT, USER INTERFACE/EXPERIENCE, MEASUREMENT, HAPHAZARDLY CREATING MY EXISTENCE, and what I would call "BEING REALLY GOOD AT USING GOOGLE". Based on 

HIS

 code 

HIS

 favorite 

DEBUG

 method is 

console.log('why the f won't tHIS WORK');

. 

HE

 claims he can cook because he 

STUDIED

 at JOHNSON & WALES UNIVERSITY but he really CAN NOT, but he did learn all about ADVERTISING, DESIGN, and MARKETING while there though.


ROB

 has also been 

AWARDED

 some 

SUPERFICIAL HUMAN "AWARDS"

 including, a 

FEATURE

 in COMMUNICATION ARTS for his work on SENATOR FOR A DAY, as well as numerous 

MITX INTERACTIVE

 and 

AD CLUB HATCH ADVERTISING BOWLS

.
While 

ROB

 is not 

WORKING

 at 

HILL HOLLIDAY

, 

HE

 

SERVES

 on the BOARD OF DIRECTORS for WORLD OCEAN SCHOOL, a non-profit that supports at-risk youth aboard a 100yr 

OLD

 schooner in Boston and St. Croix. 

HE

 also 

SUPPORTS

 MULTIPLE OPEN-SOURCE PROJECTS, some of which have over 2,000 INSTALLS. 

ROB

 wants to 

PUSH

 the 

BOUNDARIES

 of what 

DIGITAL

 & 

CREATIVE

 can do.

Rob's original professional bio can be seen below:
@Erskinerob is a true internet hero at Hill Holliday. He takes the title of "Creative Technologist" to the extreme with his wide range of work on APIs, chatbots and personalized websites. He's an integral member of the digital strategy and tech innovation team, who has brought standards, accessibility, and design-at-scale to the wider team. While this Johnson & Wales graduate may be an awful cook, he's turned his B.S. in Graphic design and Digital Media into an award-winning portfolio that consists of realtime digital billboards, multilingual content management systems, and even AAA video game titles. Rob works on every client under the sun, from the City of Boston, to Chili's, Necco, LG, John Hancock, Invokana, and Bank of America.
Teammates
Adam Franklin

Associate Digital Producer

Violeta Vengas

Associate Developer